PEPPER
"Pepper" is an advanced application of intensive retail software (front office) in an ideal functional cooperation with a flexible & user-friendly commercial application (back office), mainly addressed to the small and medium – sized retail businesses
"Pepper" has been developed to be installed in all MAT PoS systems (Elio PoS, Eltoro PoS, Atlas PoS) or in every tablet device that uses Google Android or iOS operating system
Pepper is mainly offering: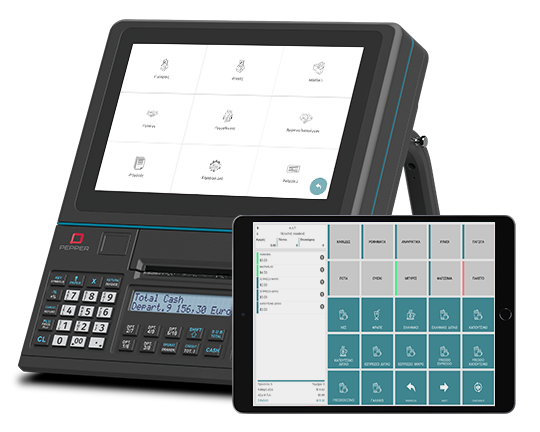 Commercial & Financial Management
Customers and suppliers management
Inventory management, procurement and sales
Issuance of documents (invoices, retail receipts, CIP)
Action planning & alerting (eg customers balance control, checks)
Printed & intangible issue of accompanying delivery notes
Electronic transmission and receipt of invoices (e-Invoicing)
Ensuring the authenticity & integrity of documents by using a secure mechanism for the generation of advanced electronic signatures or through a relevant service provider
Collections and payments management
Management of checks and other securities
Management of bank accounts and transactions
Full utilization of Dropbox for automatic backup and restore
Import or Export data from or to ".csv" type files & product images
Reports - Statistics
Intensive Retail
Built-in sales option, selectively or in combination, through visible items on the touch screen or by using a barcode scanner or via physical or virtual keyboard.
Sales order waiting management (customer waiting)
Price control during sales and automatic change of item's detail
Different language support option in document printing (real time)
Issuance of receipt with QRC and possibility of electronic transmission to the customer
Payment with multiple modes in combination with a bank card terminal.
1D / 2D barcode detection on printed documents by automatically finding and transforming into any other document type selected
Possibility of multiple payment methods on the same receipt
Ability to issue all types of documents
Promotional presentation of selected products on social media (Facebook, Twitter)
Add reminders and display them in a calendar
Electronic issuance and identification of a discount membership card & automatic promotion of the card on the customer's smart phone (Passbook Edition)
Reports and Statistics
And even more
With the use of the built-in "microsynchro" module, which is provided free of charge to up to two working seats, at any time, the store's PoS, fully synchronize their data. All the data, whatever they are (sales, purchases, prices, etc.) can always be available from all working seats.
The integrated possibility of connecting the system with the cloud service Link4all, ensures the remote control of the store and its PoS, from any point and at any time chosen by the business owner.
Immediate remote technical support from an authorized partner through the Link4all cloud service.
In the same system, at the checkout, you also have the commercial management available, as a whole, to immediately enter item or customer data, issue an invoice or monitor in detail every commercial & financial transaction of your business.
Minimizes the time and cost of installation as well as the time of familiarity with its operation, while eliminating disk "crashing" and internet virus's infection.
It minimizes the space it occupies on the counter of the cashier, while at the same time it aesthetically upgrades the appearance of it, a fact that adds value to the image of the business in customer's consciousness.
It is the only system that has a built-in ability to process electronic transactions & bill payments, in connection and cooperation with the National Bank of Greece.